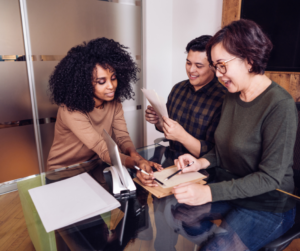 Your individual purpose is a driving force that brings value to your life. It may influence your decisions and motivate you in certain situations. McKinsey research shows that 70% of employees believe their jobs express their individual purpose. This is good news because employees with a clear purpose are happier, healthier, and stay at their jobs longer. Additionally, organizational purpose is elevated when employees are aware of their individual purpose. As you look at upcoming people initiatives, consider what your company and people managers can do to help employees find their purpose.
Try this three-step plan to roll out at your organization:
Introduce purpose.
Some employees may not be familiar with the idea of individual "purpose." It can feel vague or fuzzy. Managers can provide their interpretation and ask employees for feedback on what it means to them. Leaders can provide space to explore this topic through ice breakers, articles, and reflection. This is a chance for leaders to be vulnerable and share their purpose, too. Charting time on the schedule for purpose tells the team that this is valuable.
Share purpose prototypes.
Finding your "guiding light" may feel like a heavy task without some guiding material and examples. Leaders can provide templates, tools, and assessments to inspire their teams. Plenty of free resources are available, so don't let the budget hold you back! Managers can pose questions to get the group thinking about options. ("What is important in your community? What skills do you use for the greater good?")
Apply purpose.
Identifying individual purpose is not the last step. Leaders can challenge employees to apply their purpose at work. Could their purpose influence how they do their job? ("I am using my purpose to care for others when supporting our clients.") Or could it affect the interest groups they join at the company? It may be helpful to show how leaders within the organization use their purpose as an example.
Chances are your team will embrace "purpose." Additionally, candidates are attracted to purpose-driven organizations, which gives you an edge in a hot employee market.
© UBA. All rights reserved.