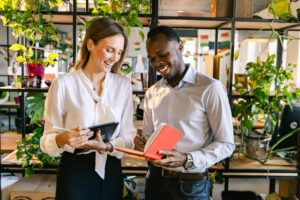 Learning and development, also known as L&D, refers to the system of training and education that organizations build to support employees in their career progression and to fill the skills gap. Continuous learning is a necessity as companies try to maintain a competitive edge in a time of digital transformation.
Some L&D departments are stand alone, while others fall under the Human Resources umbrella. Regardless, the post-COVID world is putting emphasis on learning, and therefore organizations often have some sort of leadership in place.
When the world shut down for the pandemic in 2020, virtual learning was already happening. However, the need to get people acclimated to remote work accelerated the adoption of learning management systems and online platforms. Leaders in the space swiftly devised programs to help people learn how to navigate technology necessary for the remote workplace.
The speed of change and advances in the technology put learning and development front and center. More than 40% of respondents to the latest State of HR survey said transforming training and development areas was part of their strategy for maintaining or improving company culture.
Build a Culture of Continuous Learning
Indeed, creating a culture of learning has become of the utmost importance. People cannot rest on their laurels because of the uncertainty of the times, new technology, and the rapid evolution of business. Workplace culture is transforming in many ways. When it comes to creating a culture of learning, HR leaders must get buy in from leadership. The executives must model the behavior and reward those who pursue development.
Many HR leaders are seeking incentives to get employees motivated to take available courses and learn while in the workflow. They often tie the learning and development to career pathing and the future that acquiring skills can afford them. When executed well, this usually leads to better employee engagement and experience.
Embrace Organic Learning
Companies that support this kind of culture provide the right resources, materials, curriculum, and time for employees to pursue learning. As a result, the groundwork is there for employees to learn – and teach – on their own. Often, in these workplaces, people naturally find mentors. The learning begins to happen as part of the natural cycle of work.
In some cases, the workers may grow communities of practice. These are groups of colleagues, who share self-published training materials, answer frequently asked questions, and help each other understand a niche subset of their industry. HR leaders can provide support and resources to help these communities grow and develop. After all, they provide an affordable training ground and keep employees engaged with one another and their work.
Choose a Learning Management System
However, employers need a way to deliver more formal training to workers. While face-to-face teaching remains a component of training, corporate learning today lends itself to the asynchronous courses that technology now allows. To smoothly deliver such content, employers turn to learning management systems.
They seek this technology because it allows them to store the learning in one place and provide easy access to material to employees. It often includes features that provide employees with their own dashboard and ways to measure performance. Employers can also track the progress of those taking the courses.
Train Leaders for Transformation
One of the keys to successful continuous learning is leadership buy in. Executives must model the behavior and continue to learn themselves. Of course, they must agree to provide the necessary resources.
To ensure leaders set the tone, HR can establish leadership training. This is beneficial because it also helps to continue to fill the pipeline of talent within the organization. When openings become available, these organizations can promote internally first.
Keep an Eye on the Future
Like everything else in the workplace, learning and development is undergoing a transformation. Technology, like learning management platforms, are evolving. More specifically, virtual reality, the metaverse, and artificial intelligence (AI) are revolutionizing the expectations of learners.
In fact, many expect that these advances will help people get more personalized curriculum and opportunities for experiential learning. The challenge for HR leaders is determining which of these applications will endure and which will end up being a passing trend. Of course, these things cost money, so employers also must have the budget for them.
By Francesca Di Meglio
Originally posted on HR Exchange Network